Horse related sites of interest
Below you will find some search engines that I have found to be very helpful. I have also added some of my favorite horse related websites. These will be updated regularly so please check back often.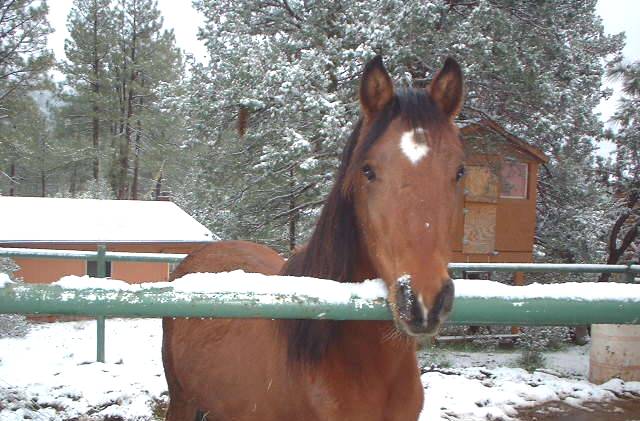 SGA Kalina enjoying her first snow. Photo taken 1-6-03.
Search Engines
AltaVista You know us as the Internet's original search engine.
Lycos One of the most visited hubs on the Internet reaching one out of every two web users.
Yahoo! With over half a million sites divided into more than 25,000 categories, Yahoo! is both browseable and searchable.
InfoSeek

Arabian Horse Association The offical U.S. registry of Arabian horses, established in 1908.
World Arabian Horse Organization
Arabian Horse Owner's Foundation An independent, non-profit foundation with a focus on history, art and education.
Sun Gate Arabians Breeders of Crabbet bloodlines with a strong Gainey influence. Breeders of SGA Kalina and standing the stallion RA RainClassic
Valley Vet Supply Pet, equine and livestock supplies.
Eva Dano - Arabian Pedigree Research Amazing pedigree research. Provided all percentages on our horses and also creates custom pedigrees and bloodline analysis.
Gainey Fountainhead Arabians Home of Gai Monarch.
McCoy and Gainey History Additional information on the breeding programs of Frank McCoy and Daniel Gainey.
Animals Exotic and Small Magazine Animals Exotic and Small Magazine